Profitable Multipool Mining
RainbowMiner finds the most profitable mining setup for your machine by continously monitoring multiple crypto mining pools, coins and currencies in real-time. For peace of mind, all of your mining rigs running RainbowMiner, can be supervised at one central location, here at rbminer.net/monitoring.
Getting started is simple: download, unpack, start!
RainbowMiner supports at least 15 pools and 56 different mining programs.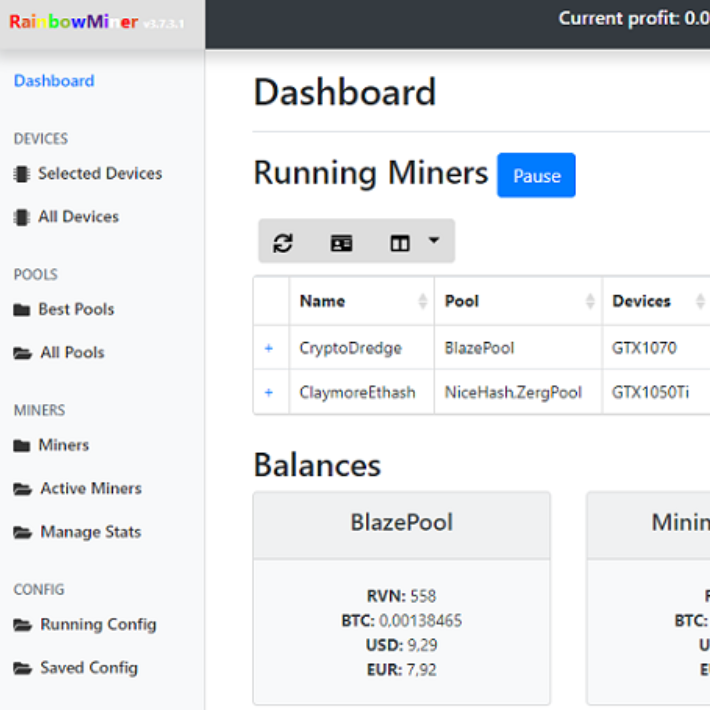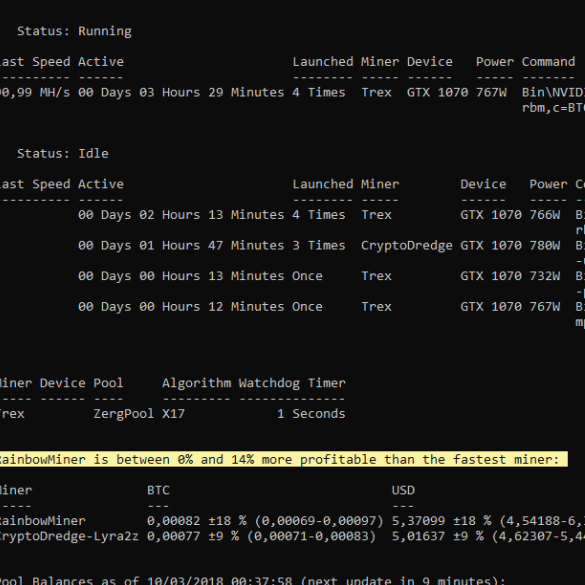 Optimize Mining
RainbowMiner measures the current power consumption and can be configured to pause mining, if profitability drops below zero.
The mining script contains a complete set of overclocking tools, to further optimize your mining setup. Control every aspect of your Nvidia or AMD graphics cards, from overclocking to undervolting. Also, define how to use your CPU for mining.
RainbowMiner optionally controls MSI Afterburner and OhGodAnETHlargementPill
multi-platform (AMD, NVIDIA, CPU)
easy setup wizard, adhoc working
auto downloads miner programs
full automatic update
live monitoring web-interface
includes support for MSI Afterburner
includes OhGodAnETHlargementPill
Pause mining without exiting the RainbowMiner
select devices, miner, pools
finetune miner with extra parameter
finetune pools (algorithms, coins, penalty, data window..)
assign devices to specific algorithm and miners
easy overclocking of gpus
unlimited custom overclocking profiles
auto switch MSI Afterburner profiles
And many more to tune!
live monitoring of pools and currency prices
auto-switch between mining programs and algorithm
auto-switch between pools
auto-switch hardware combinations
include real cost of electricity
auto-pause if no longer profitable
very low CPU usage